Sharp Industries, Inc is a U S company that has been supplying quality machine tools since 1976. We have over 100,000 sq ft of area dedicated to show room, technical training center and a large inventory of machines and spare parts to ensure fast and efficient delivery of our products to our customers. Over 150,000 installments were made in the past 45+ years.
Our products are manufactured under ISO 9001 certified design and management process. We used MEEHANITE and other certified procedures for making our castings. Our machine designs used the Finite Element Analysis (FEA) to ensure rigidity of the products. Only high quality components with proven reliability are used in SHARP products. Our parts specialists and trained technicians are committed to provide full support to the machines that we sell. Over 300 dedicated dealers in the US are ready to serve all the SHARP customers.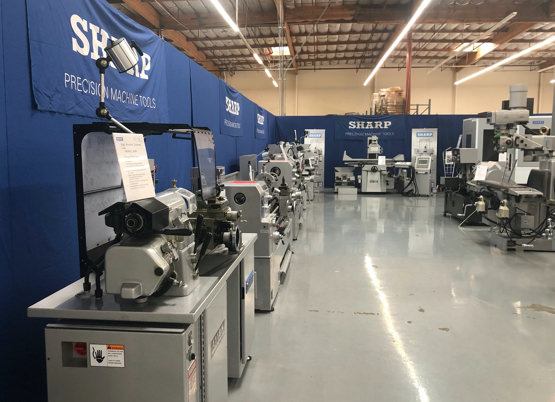 We offer a comprehensive line of manual and CNC products for your one stop procurement needs.
VERTICAL MACHINING CENTER: C frame, double column,
BED TYPE CNC MILL
KNEE TYPE CNC MILL
CNC LATHE (Flat Bed)
CNC HOLLOW SPINDLE LATHE (Flat Bed)
MILLS: knee type, bed type, vertical, horizontal, and vertical/horizontal combined, horizontal boring mill
LATHES: toolroom, high precision, engine lathes of all sizes, big bore,
GRINDERS: surface, cylindrical, travelling column, double column
HORIZONTAL BAND SAWS: straight cut, miter cut, NC type, double column
RADIAL ARM DRILLS: all sizes
Over the years, our customer base has grown tremendously. They include Fortune 500 companies of various industries. all sizes of machine shops, government research labs, cities, municipals and county agencies, technical schools and universities. Numerous individual entrepreneurs and hobbyists. A sample of our customers are listed below.
Aerospace
Boeing
General Dynamics
Bombardier
Ge Aircraft Engine
Gulfstream
Honeywell International
Lockheed Martin
Mcdonnell Douglas
Northrop Grumman
Pratt & Whitney
Raytheon
Rolls Royce Engine
Sikorsky Aircraft
Utilities
Commonwealth Edison
Cooper Power Station
Cook Nuclear Power Plant
Diablo Canyon Power Plant
Detroit Edison
Iowa Power & Light
Illinois Department of Transport
Quad City Nuclear Power
Heavy equipment
Bucyrus
John Deere
Burlington
Caterpillar
Ingersoll
Komatsu Equipment
Energy
Chevron
Dow Chemical
Exxon Mobil
Monsanto
Pennzoil
Smith international
Shipbuilding
Newport News Shipbuilding
Puget Sound Naval Shipyard
Todd Shipyard
Research labs
Argonne National Lab
Lawrence Livermore Research Lab
Los Alamos Research Lab
NASA
Transportation
Tesla
Daimler Mercedes
Chrysler Motor
Ford Motors
General Motors
Nissan North America
American Airline
United Airline
B F Goodrich
Bridgestone Tire
Goodyer
Cummings Engine
Curtis Maruyasu
Delphi Automotive
Dana Corp
Detroit Diesel
Gould Pumps
Parker Hannifin
TRW Automotive
Consumer products
Boise Cascade
C&H Sugar
Cannon
Chicago Tribune
Coors Beer
Conagra Foods
Crown Cork & Seal
Corning Glass
Frigidaire
GAF
Georgia Pacific
Hallmark Cards
Kimberly Clark
Kodak
Mattel
Nestle
Purina
Pillsbury
Procter & Gamble
Rand Mcnally
Revlon
Ricoh
Sony
Thermador
T J Lipton
Walt Disney
Weyerhaeuser
Technical schools, universities
Black River Technical College
Brigham Young U
Cal Tech
Duke U
Fayetteville Tech Community College
Iowa State U
Madison Technical College
MIT
Northeast Technical High
Tennessee Technical Center
Texas State Technical College
U of Alaska
UC Berkeley
UCLA
UC Santa Barbara
UC San Diego
UC Riverside
U of Colorado
USC
U of Texas
U of Wyoming
Wichita State U
Electrics & electronics
Baldor Electrics
Black & Decker
Bosch
Celestron
Crouse Hinds
Cutler Hammer
Emerson Electrics
Sumitomo Electric Wiring
Westinghouse
Federal, state, municipal
City of Los Angeles
City of Tulsa Raw Water Supply
Kennedy Space Center
New York City Transit Authority
US Air Force
US Army
US Navy
US bureau of standards
USDA
US Geological Survey
US Marine Corp